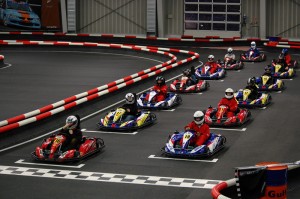 Silver Hotel & Gokart Center is definitely the most recognizable track in Poland. It's a 4-star hotel with fabulous restaurant, swimming pool and a karting track. What else could you dream of?
The facility is hosting many premium events, including PIKC – Polish Indoor Kart Championship, which is the local edition of Kart World Championship.
Silver Hotel & Gokart Center is the first indoor karting track in Poland (or perhaps even in Europe?) to introduce sector timing. There is one detection loop on start/finish line and the other in the middle of the lap. KartingManager is presenting sector results on the TVs and also on the personalized prints after the race.
KartingManager is also integrated with hotel's TV network. On the TV in your hotel room you can watch a TV channel showing present results of the drivers on the track.