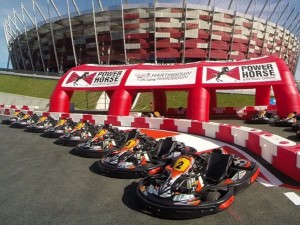 Kartingowy Narodowy is another top level outdoor polish karting venue. It is located in the heart of Warsaw, just next to The National Stadium and Wisla river, with a maginificent view on capitals skyline.
The track is equipped with 10HP CRG karts with LAPO on-board display. This fun gadget is not only a remote lap timer, but also serves as a communicator with the driver, showing flagues, commands and any other information required. In the meantime LAPO displays present sponsors' advertising and marketing materials.
The track has the newest MYLAPS X2 system timing hardware with sector timing. There is also a kart security system installed on the track, with remote speed control operated from a tablet. There are 5 TV's all over the place for best results display. High quality asphalt surface gives you maximum fun from the ride.
Kartingowy Narodowy is definitely another level of karting experience!