Karting Area Itaroa in Pampelona is a uniqe venue. It is rather a short track, but of an usual design – you can race on 3 different levels! Curves, slopes and narrow sections combined with highs speed gives you maximum fun and an unique atmosphere.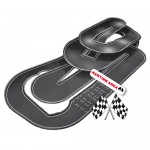 The track is a host of a number of events, such as group races, endurances, friends and bachelors parties, school for unexperienced drivers and teambuliding&corporate events.
Well known and reliable Sodi RX 5 karts will provide with fun and speed thrill even the most demanding guests. Customers awaiting for their turn can participate in the rivalry from a panoramic cafe above the track.