HELL Kart&Event Center is a part of Avalon Park, a premium investment in Miskolc, Hungary. Located in the woods on the hills surrounding the city, just next to the famous thermal cave bath, a major attraction of the region, HELL is a picturesque place that will provide you with maximum karting adrenaline.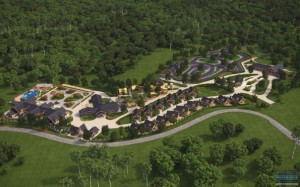 The track is equipped with 33 electric RiMO SiNUS iON karts with a special BOOST feature, that makes driving even more exciting. There is a huge full-colour LED scoreboard (appx. 2m high and 4,5m wide!) above the track, which is the biggest display we have mounted so far. Timing is provided by MYLAPS' latest X2 system with 4 detection loops.
Safety barriers are provided by 360Karting and they are equipped with two colors LED lights. White – to illuminate the track in the evening and yellow – as a safety light informing about incidents on the track. All lights are connected to kartingmanager light control module and can be controlled through the system or tablet app. On top of that – we have also integrated kartingmanager with remote speed control funcionality to remotely slow down or stop the gokarts if needed. All security-related features are integrated into kartingmanager, so if there is an incident on the track – for instance in sector 3 – Marshall has to press one button and the safety procedure runs automatically:
all karts entering this sector are slowed down
yellow light in safety barriers in this sector are turned on
everything comes back to normal with one click
Kartingmanager system is integrated with more than 20 HQ TV's around the track and will also be integrated with TV's in every hotel room as soon as the hotel is built. Thanks to that every guest can check out the scores and see live reports from the track from their couches.
The track itself is divided into four sectors, has seven possible configurations and can operate as two separate tracks and the same time.
All that is surrounded by restaurants, beer garden, hotel, event center, swimming pool,  special adventure park for kids and much more – everything to ensure the highest quality of services. The whole venue is just more than impressive!
We are more than happy that together with 360 Karting we could participate in the process of designing, building and construction of this track from the very beginning.
Check out more: